What is your desk set up like at home or in the office?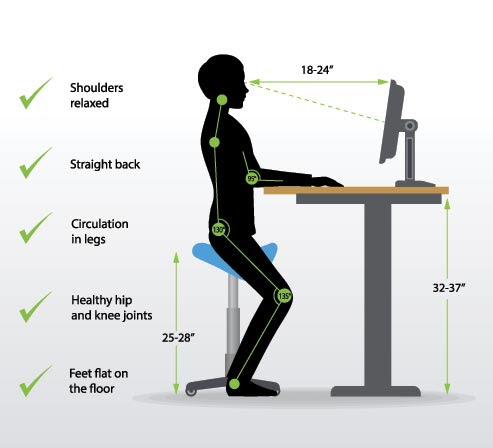 If you told me a year ago that most of us would STILL be working from home a year later, I would have given you a very strange look.
But alas, here we are.
And whilst most of us are able to soldier on and complete the vast majority of our work in our home environments, the truth is that very few people are actually adequately setup to give their bodies the ergonomic support they need. And given that many of us – even post-pandemic – will unlikely be going back to the rigidity of 9-5 office working in future, this poses a somewhat serious issue.
According to Time Magazine, whilst most workplaces are equipped with HSE-compliant workstations, most residential settings don't have the space to accommodate such large ergonomic office furniture.
Most people work from their dining table, kitchen counter, or – dare I say it – bed!
I have clients who, since the beginning of the first lockdown, have worked exclusively in their PJs in bed. They are now suffering with a variety of symptoms that require intensive treatment as a result of poor posture. If I have one suggestion for you this month, it is to take a step back and really assess your home working environment.
Here are some key questions to ask yourself:
Working from home Checklist:
Do you have a suitable chair to sit on, giving you adequate lumbar support?
Is your screen raised level with you eyeline?
Are you using a separate mouse and keyboard?
Is the table at which you're sitting at a reasonable height, helping you avoid hunching over or causing undue forward flection
Are you able to rest your feet flat on the floor? (Better yet – grab a golf ball (or other small solid ball) and roll this under your feet as the rolling of the feet has so many benefits in terms of increasing flexibility.
Always better to do it standing up but considering you're sat at your desk, give it a try!
Are you taking regular breaks, giving your body time to relax and not get stuck in that forward flection position for 9 hours a day?!
In my opinion the position of your mouse is the most important change you could make right now to your set up at home. If you're working on a lap top it's essential to get a separate mouse and keyboard so you can use the laptop screen as a screen on it's own and raise it to eye level.
A remote mouse is the best because then you can set your work station up so that your mouse is to the side of you, in line with your waist, so you're not working with your arm in forward flexion or too far in front of you. So whether you have to move a piece of furniture for the time being to be beside you whilst working at your dining room table, or a pile of books if you're sat on your sofa, ensure that your shoulder is right back, and your mouse is in line with your waist...... no more working with your arm in front of you. That is key to changing your posture first and foremost and to prevent ongoing issues with neck, shoulders and lower backs!
The truth is that working from home presents an opportunity for flexibility. My advice is to take that opportunity and use it to offer your body the respite it deserves and more importantly get your body into the right position! There is no such thing as the best position to work in all day because our bodies are not designed to sit for such long periods without presenting with all sorts of problems! So have a look at the image I've attached and do your best to change your working style from home, the only thing I'd change on the image is to bring the shoulder right back so it's in line with your ear when working with the mouse, and if you can keep it in that position then the shoulder is not going to fall forward, which in turn will drive your neck forward, which in turn will cause all sorts of aches and pains and imbalances!
Of course, if you're suffering with pain, I'm here to help. Please call or email me and we'll see what else we can put in place to help you.
As government lockdown measures are gradually relaxed, I'm pleased to say that I'll be extending my service into the community and offering remote appointments at your home or office. Please get in touch and let me know if you'd be interested to take advantage of this service, as limited appointments will be available.
In the meanwhile, take care of yourself and remember to perform the above checklist as soon as possible!
Yours in good health,
Amanda xx