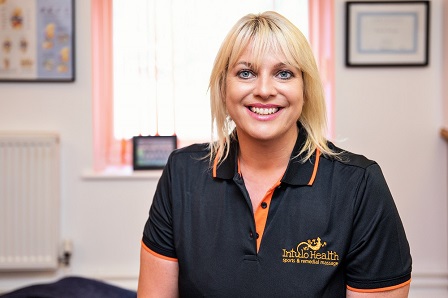 Amanda is originally from South Africa and is the owner of Intulo Health and started the business in Bournemouth in 2011. Amanda has over 13 year's experience working in the sports and fitness industry. She trained as a Sports and Remedial Massage Therapist with the renowned London School of Sports Massage (LSSM) and achieved a first class pass on a Level 5 BTech qualification, which is the current highest qualification achievable in the United Kingdom for Soft Tissue Specialists.
In conjunction with running Intulo Health, Amanda is part of the Medical Team at AFC Bournemouth as a Sports Massage Therapist for the first team, which compliments her hours and work at the Clinic. Amanda says "This has been a great opportunity for me to enhance my skills as a Physical Therapist within a Premiership Environment which I am then able to bring into my client for the benefits of my clients and the patients at the Shelley Manor Medical Centre".
The misconception is that deep tissue massage is for sports people, there are so many benefits to having regular massage therapy. We have such a wide range of clients that present with a variety of aches and pains, whether they're sat at a desk all day, or have a manual job, to suffering with Fibromyalgia, or recovering from a stroke or injury. Manual Therapy, soft tissue work and deep tissue massage is what we do best to alleviate aches and pains in the body and then we provide rehabilitation advice to our clients so they can then continue to rehabilitate themselves at home.
Furthermore, Amanda is a BodyMOT certified coach, providing clients with an in depth view of their overall health through a series of diagnostic tests which then gives clients the tools to achieve optimum health.
To find out how sports and remedial massage therapy might help you, please contact me via the contact page or phone on 07789 810752 to book an appointment with Intulo Health and experience a deep tissue sports or remedial massage treatment with Amanda Burger.
Take a look at our client's testimonials.